Activated Carbon Adsorption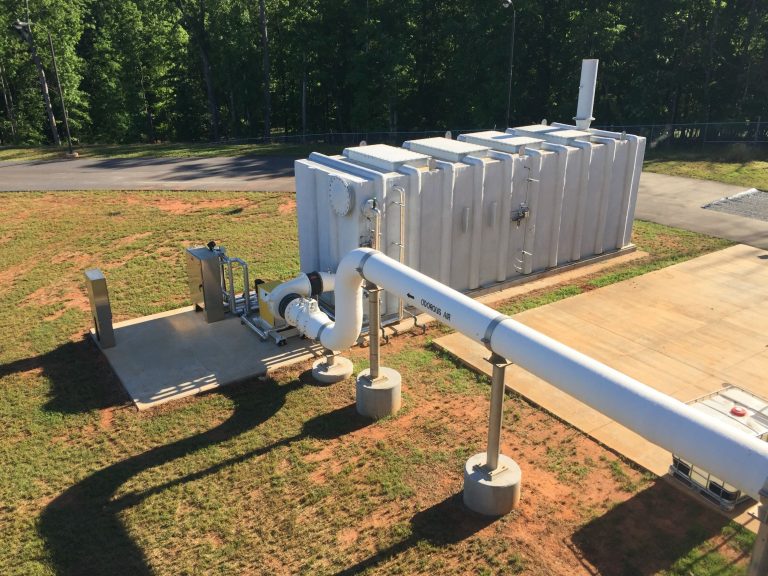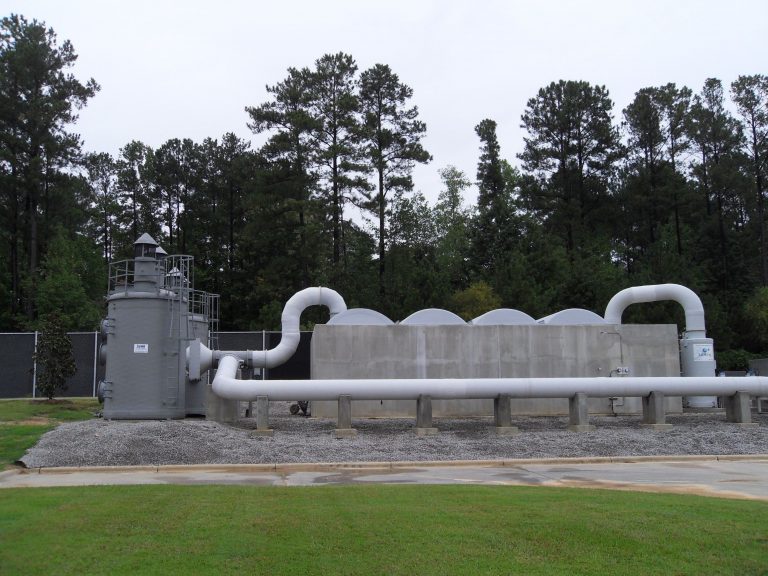 BIOREM is a complete odor and air emissions control company. We select the proper technology based on the nature of the contaminants and the required outlet levels. Activated carbon is a mature technology that is well suited as a final polishing stage following a biofilter, or as a stand alone treatment technology for applications with low concentrations or non-biodegradable compounds.
In addition to activated carbon, BIOREM also offers systems which feature other adsorption medias such as KMnO4 impregnated alumina, NaOH impregnated carbon and iron oxide scavengers for biogas. In a typical adsorption stage, contaminants adsorb onto the surface of the media and are disposed with the media when the media bed is replaced.
BIOREM's engineers and designers have the expertise to assist you in selecting the right equipment. We perform compound specific carbon capacity calculations to estimate the bed life and ensure reliable operation. BIOREM designs and supplies the entire system, not just a media bed. This allows for a seamless installation without unwelcomed surprises.

Flexibility with Superior Design and Unrivaled Performance
Simple to operate and maintain, BASYS systems are extremely flexible in nature: they can be stacked, roof mounted or installed underground. They can be constructed of high density polyethylene (HDPE), fibre-reinforced plastic (FRP) or stainless steel. They can be designed for forced draft or induced flow (positive or negative pressure), and there are a large number of options that can be selected to handle any application from heating, cooling, insulation, dust and aerosol removal.
BiofiltAIR systems are for large airflows and particularly suited for dense urban environments. They can be integrated into the building envelope, or located underground, above ground or a combination of the two.
These systems can also be designed for forced draft or induced flow (positive or negative pressure) and are available with a wide range of instrumentation and controls.
BiofiltAIR systems are aesthetically pleasing and can be integrated seamlessly with onsite weather stations and continuous performance monitoring.
Custom: Units are built to the specific needs and requirements of each client to ensure guaranteed satisfaction.
Permanent Media(s): Biosorbens® and XLD are engineered, permanent media(s) that will not break down or compact and come with a standard 10-year warranty.
BIOREM is the only reliable solutions provider able to guarantee systems to meet a 1 OU odor requirement and has a proven track record to demonstrate this.
Our engineers have created the largest performance database for odor control and can work with clients to assist on forecasting operating scenarios for greenfield applications.
With a combined industry experience of greater than 400 years, our engineers are able to quickly identify the potential challenges associated with the abatement of odors and hazardous air pollutants. This powerful knowledge base greatly reduces the potential for unforeseen surprises at your facility.
Flexible vessel options: Options on our modular units include 304 or 316 stainless steel, FRP & Rigid Geon® Vinyl, HDPE. Larger field erected units are constructed with reinforced, corrosion resistant ternary-blend concrete which is guaranteed against corrosion for 10 years
BIOREM offers biological solutions for the removal of odors, H2S, VOCs and HAPs. Our systems treat air flows from as little as 100 cfm to greater than 500,000 cfm. With countless possible sizes, configurations and options available, our experts will help you choose the right system for your needs.
BIOREM biofilters use our patented engineered permanent media Biosorbens® and XLD®. Both come with a standard 10-year warranty.
Use BIOREM biofilters for the following applications:
Demanding total odor applications
Headworks, grit removal, bar screens, lift stations
Clarifiers, Aeration basins
Septage receiving
Biosolids management (dewatering, digestion, storage, drying, composting)
Indoor applications requiring prefabricated units for ease of installation
Organics processing (compost, anaerobic digestion)
Rendering plants
Agribusiness
Food & Beverage
Pharmaceutical
Surface Coatings
Petrochemical
Solid waste handling
Semiconductor
Chemical production facilities