Biorem today announced results for the three month period ended March 31, 2023.  Biorem's complete 2023 first quarter financial statements and MD&A have been filed on SEDAR (www.sedar.com).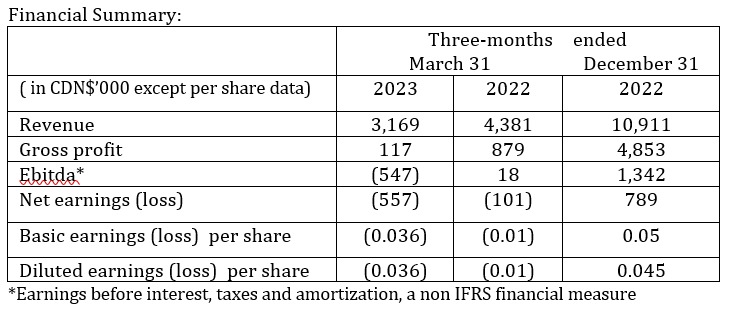 Revenues for the quarter totaled $3.2 million, a $1.2 million or 28% decrease from revenues of $4.4 million recorded during the first quarter of 2022 and a 71% decrease over the previous quarter. The decrease in revenues reported in the quarter over the immediately preceding quarter was largely seasonal in nature. Biorem typically has lower revenues in the first quarter due to customer scheduling.
Gross profit in the quarter of $117,000, represented 4% of revenue, compared to $879,000 and 20% of revenue in the first quarter of 2022. The decrease in gross profit during the quarter was due to the lower revenues reported and to a cost overrun on a project of approximately $200,000.
Operating expenses for the quarter were $806,000, which was a decrease of $136,000 from the $942,000 in operating expenses incurred for the same period ended in the prior year. The decrease in operating expenses was largely the result of decreased variable sales expenses on the lower revenues recorded in the quarter. The company recorded a gain from foreign exchange in the quarter of $171,000 while in the same period in 2022 the Company recorded a loss of $1,000.
The Company booked new orders totalling $3.6 million in the quarter resulting in a historic backlog of orders at March 31, 2023 of $39.0 million compared to an order backlog of $31.1 million at March 31, 2022.
"Bidding activity has remained strong through the first quarter and we expect to report significant new bookings in coming months." said Derek S. Webb, President & CEO.
"While actual bookings lag our forecasts for the first quarter, delays in the awarding of contracts are primarily a function of infrastructure projects being delayed rather than losing those contracts to competitors," said Mr. Webb. "Our sales funnel continues to grow for both our biological solutions as well as with the new dry scrubber product line introduced last year. Maintaining an order backlog and sales funnel at these levels will ensure the Company's continued growth in revenues and profitability."
The Company's cash position stood at $4.7 million on March 31, 2023, compared with the $3.8 million held on December 31, 2022.  Working capital at the end of the quarter was $4.1 million down slightly from the $4.9 million held at December 31, 2022 and up $1.3 million from $2.9 million recorded at March 31, 2022.  
About BIOREM Inc.
Biorem is a leading clean technology company that designs, manufactures and distributes a comprehensive line of high-efficiency air emissions control systems used to eliminate odors, volatile organic compounds (VOCs), and hazardous air pollutants (HAPs). With sales and manufacturing offices across the continent, a dedicated research facility, a worldwide sales representative network and more than 1,800 installed systems worldwide, Biorem offers state-of-the-art technology-based products and peace of mind for municipalities, industrial companies and their surrounding communities. Additional information on Biorem is available on our website at www.biorem.biz.
For further information contact:
Derek Webb, President and Chief Executive Officer
dwebb@biorem.biz
Tel: (519) 767-9100 ext 240
Douglas Newman, Chief Financial Officer
dnewman@biorem.biz
Tel: (519) 767-9100 ext 287